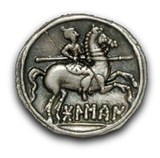 The Celtiberians have the Power of Defence. They replace the Maya.
In contrast to their war-mongering and cattle driving Celtic neighbours to the north, the Celtiberians live in a highly cultured and sophisticated society with substantial urbanisation in some areas. However, as much as they may enjoy the spectacular mineral wealth of their lands and the best of both the Celtic and Iberian worlds, the Celtiberians are a society divided and often at loggerheads at each other, marking them as easy prey for alien powers stirring beyond the seas or poised to march down from the mountains of the Vasci in the north.
Unity must be achieved at all costs, for the enemies of the Celtiberians are amassing, and they will be many, but fortunately the Celtiberian tribes are highly sophisticated and are known to live in large cities of stone throughout the Iberian lands. Such an acquaintance with the ways of fortification and architecture may yet prove useful to any tribal chieftain who has his eyes set on uniting the tribes under his rule — and resisting the inroads of the foreigners who have begun to take an ever greater interest in the conquest of his lands and those of his neighbours.
Faction Bonuses
Edit
Architectural Mastery: Buildings 20% tougher and and all non-Wonders are Built 20% faster
Stoneworks Mastery: Buildings except Wonders, and military cost 20% less timber
Oppida: Stationary Defense Structures like towers, forts fire without garrisoning and fire extra projectiles
Olyndicus
Istolacius
Indortes
Orisson
Carus
Cerdubeles
Thurrus
Hilernus
Edecon
Aluccius
Mandonius
Amusicus
Corocotta
Gauson
Bilistages
Andobales
Indibilis
Orsua
Corbis
Mucro
Orisos
Chalbo
Attenes
Culcas
Luxinius
Coribilus
Indos
Meniacaptus
Vismaros
Magavaricus
Cacyros
Gerion
Norax
Hispalo
Hispan
Gargoris
Habis
Settlements
Edit
Numantia
Segoubia
Nouia
Brigantia
Iria
Olina
Osuna

Sekaisa
Donobria
Aviliobris
Bonisana
Cistonia
Morodon
Iruna

Saguntum
Ogrobium
Berisamo
Beriso
Lubri
Miobri
Verubri
Ad blocker interference detected!
Wikia is a free-to-use site that makes money from advertising. We have a modified experience for viewers using ad blockers

Wikia is not accessible if you've made further modifications. Remove the custom ad blocker rule(s) and the page will load as expected.