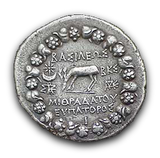 The
Pontics
have the Power of Defiance.
National bonuses
Edit
Achaemenid Antecedents: Granary, Lumber Mill, Smelter available at start and research available sooner
Legacy of Cybele: Granary, Lumber Mill, Smelter production upgrades 50% cheaper
Will to Triumph: Building completion bonuses +50%
Blood on the High Seas: Fire ship units cost 25% less, built 33% faster
Mithridates
Diophantus
Pharnaces
Polemon
Phythodorida
Ariobarzanes
Darius
Settlements
Edit
Amaseia
Sinope
Laodicea
Amisus
Zela

Nicopolis
Sebasteia
Comana
Gaziura
Trapezus
Cerasus

Pharnaceia
Cotyora
Amastris
Cabeira
Tripolis
Ad blocker interference detected!
Wikia is a free-to-use site that makes money from advertising. We have a modified experience for viewers using ad blockers

Wikia is not accessible if you've made further modifications. Remove the custom ad blocker rule(s) and the page will load as expected.