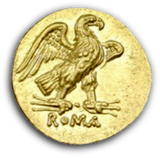 Strengths
Edit
Powerful siege weapons
Strong navy
Good at consolidating conquests
Superior late-game units
Most technologically advanced faction
Weaknesses
Edit
Weak early-game units
Lack of unit diversity
The Romans are a highly offensive faction and are one of the most potent available in The Hellenistic Era, with their bonuses reflecting best what the Romans were known for: sophistication in military engineering, mixed in with a penchant for brutal melee clashes and their extension of citizenship to conquered peoples, which definitely helped the Roman empire in real life stay as one in the long run. Their siege bonuses allow them to capture enemy cities and destroy enemy fortifications with much more ease. Furthermore, cities captured by the Romans assimilate twice as quickly and their citizens are cheaper, so they also have less trouble holding onto their territorial gains. Cheaper military research gives the Romans the opportunity to increase their population limit and reform their armies before their opponents.
What really makes the Romans shine is their army. Their soldiers start off as hardly adequate, but they can drastically improve their army by researching reform techs. Once the second reform tech has been researched, the Romans have access to one of the greatest armies available. An infantry -centric force, they will dominate in melee, even capable of defeating the menacing pike-phalanxes of the Successor States. Apart from a somewhat weak starting army, the only other thing pulling the Romans down is their lack of unit diversity. Despite having a most impressive heavy infantry force, they lack effective light infantry or cavalry components. When the level 2 reforms are accessed, the Romans lose access to cheap light infantry altogether, hindering their ability to quickly pull together a force in times of crisis.
Overall the Romans are a very capable faction, and although they start slow, once they have a fully-upgraded army, they are incredibly difficult to stop. If you are fighting against the Romans, the best game strategy is to rush them and take them out before they become too strong. The best counter against the Roman juggernaut would be to use light cavalry and light infantry to pull them apart from afar, while avoiding head-on assaults.
Strategic Overview

Basic Gameplay